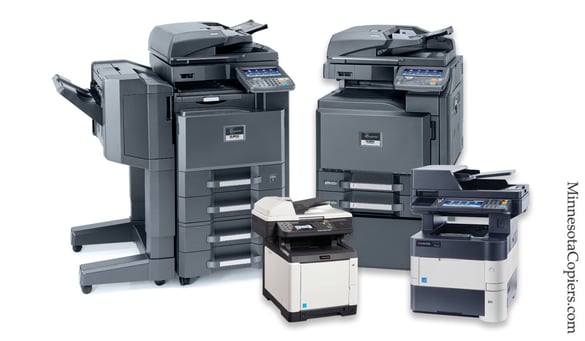 Small businesses and organizations have their own set of unique needs and, often, limited budgets. Yet office equipment (Copiers, Printers and MFP's) are a necessary thing, and investing in quality printers, copiers and scanners can yield high returns in terms of productivity and better work-flow.
High-volume copiers today are fast, cranking out 200-300 pages in just a couple of minutes. Today's machines can also automate tasks like collating, folding and stapling. There is a large variety of equipment on the market, and the trick is finding the best copier or printer to buy or lease in that fits your specific needs.
Before you invest in a new copier or MFP, define your priorities, of what you really want this new copier to do. If you need a machine that will copy, fax, scan, print, as well as staple, fold and bind, you will need invest in a high-priced model to cut down on costs in the long run. If your office has only light copying and document handling needs, you should narrow your search to simpler models.
Next, you will need to evaluate your monthly printing volume, if you need a more accurate way to do it, we can do a FREE Managed Print Assessment. If you print and copy a lot of paper, you will want to look for fast output, high-volume paper trays and a variety of print quality settings. However, if you have a smaller organization that doesn't have as high a yield, you can get away with spending less on your copier.
Copiers speed is another consideration to take when selecting a printer. For instance, if you produce large, complicated printing projects on a daily basis, you'll need a model with a high printing capacity. These high capacity models will stand up to an environment with even the highest printing volume.
Even after assessing your needs, it can be intimidating to invest in a new printer that will last the long haul in your office. Partnering with a Minnesota company like JR Copier of Minnesota, which has decades of experience matching companies with the right office equipment for their needs is one way to streamline the process. Not only can a managed print provider help you find the best copier for your workplace, it can help with ongoing maintenance issues and enable you to track your printing habits and costs.
JR Copier of Minnesota, has offered best-in-class copiers from the most trusted manufacturers in the industry for over thirty years. Our copiers feature customizable control panels, high-capacity paper storage for long periods of unattended production and removable dollies for transporting projects.
We help Twin Cities companies find copiers that best fit their work-flow every day.
---