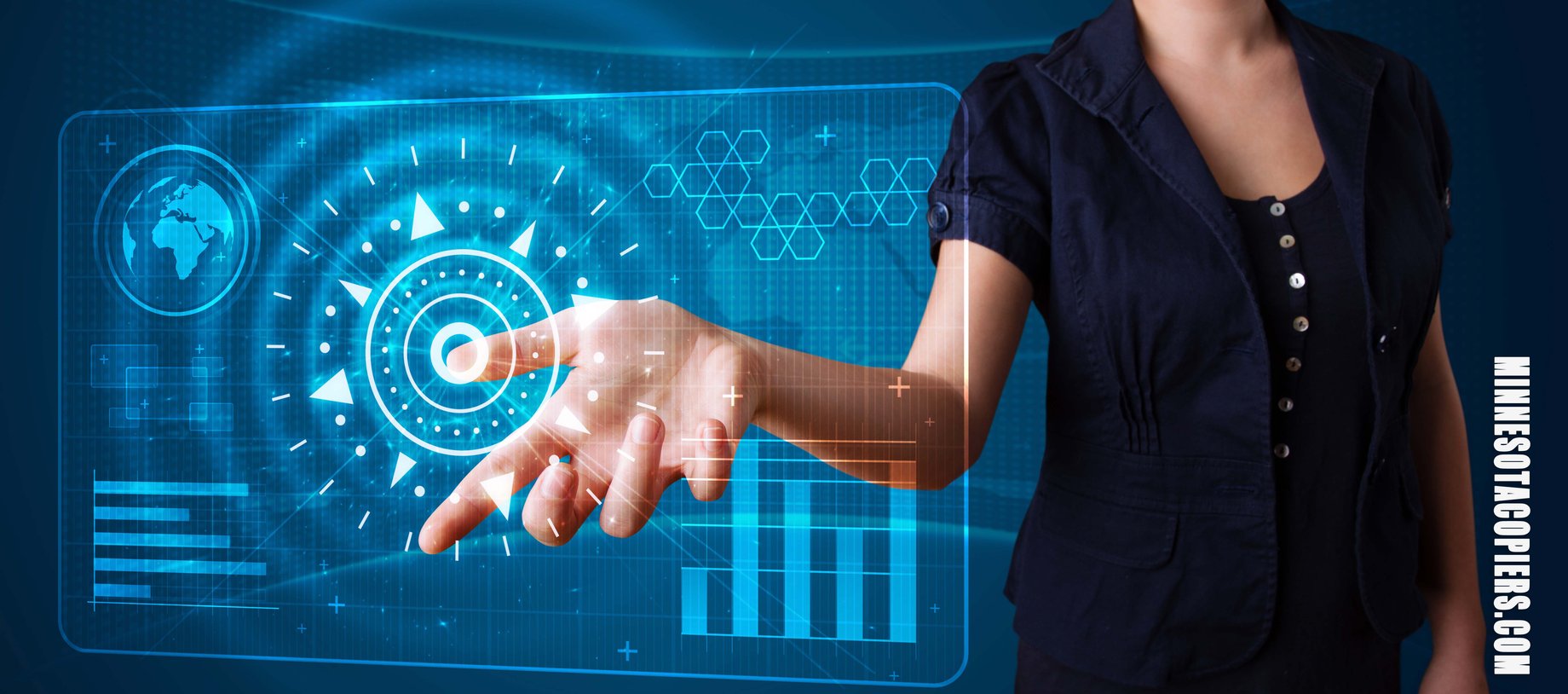 What is a multifunction printer (MFP) and why consider them over a copier?
A Multi-Function Printer (MFP) is an office machine that includes a combination of Printing, Copying, Faxing, Document Management, Pinpoint Scan, Capture & Distribution, Mobile & Cloud printing, and Scanning Capabilities in one machine so as to provide better document management, distribution, and production.
Greater Cost Control. You can lease or purchase a new MFP at a lower of the cost of other similarly classed copier based devices, giving you the performance of a copier without the constraints of a lease that requires paying for the extra features you don't need. You can also choose one of our leasing programs, but you still save by leasing devices with only the features you need. The cost of operating a new MFP is up to 30% lower than the traditional copier engine – Newer technology brings the cost down!
Reliability. Today, businesses are printing more and copying fewer pages. So, if printing is what you do most, it makes sense to go with a machine that is printer based. Printer based MFP's also have only a fraction of the moving parts as a copier. Less moving parts means less downtime!
Increased Productivity. With more cost effective MFP's, many of which have a small footprint, but enough performance capabilities, can be placed on desktop – you can distribute multiple devices around the office, closer to workers and where they make sense. That means less walking around and less waiting. Increased accessibility and reliability naturally leads to increased productivity.
Digital Workflows. MFPs are intelligent network devices. Paper-based documents can become digitized files, routed and delivered across the Internet as part of a digitized work flow that trims turnaround time, lowers transaction costs, reduces risk and improve productivity – Increase profits!
Higher Return on Investment. Take advantage of our Managed Print Services programs, your MFP's, copiers and printers will become part of your overall IT environment. Through JR Copier of Minnesota, we can help you "balance" the deployment of printing devices - single- and mulch-function, to help you select and strategically distribute the right mix of printing and imaging resources for your business. As a result, you can eliminate the wasted capacity or unused functionality that drives up the costs of printing and copying. Instead, you can cost-effectively align device capacity and features with user needs. You can also flexibly redeploy these assets as business needs change, making these imaging resources a dynamic part of your business.
What is wrong with the traditional copy model?
Complex and Costly Contracts. Older copiers are usually leased as part of a complex and costly "one-size-fits-all" contract, with an equally costly service contract. You pay for a monthly page volume you use. To avoid premiums for going over that amount, many businesses set the monthly volume at peak usage, so many months they are paying for pages they never use. Further, according to HP research, only 20 percent of mainstream copier customers are using the device's full capabilities – which means that 80 percent of these customers are paying for copiers overloaded with features and functions that are rarely used. In fact, most copiers are being used for routine jobs averaging three pages or less, with little or no need for complex capabilities.
Poor Reliability. Analog copiers are known for breaking down at critical moments. With the sheer volume of traffic these centralized devices handle - and the 1000s of moving parts found in many of them – it's easy to see why the copier repair man is so popular around the office.
Decreased Productivity. Everyone has spent time walking to, waiting by and clearing jams in a copier. It's a real productivity buster from a management viewpoint and a real time waster for the busy end user.
Paper-based Work flows. Traditional copiers only perpetuate dependence on paper-based documents and processes. Just think what would happen if your invoices didn't make it out on time or never made it to their destinations at all. You could lose hundreds if not thousands of dollars per hour due to the delay. Standalone copiers also do little to eliminate the rigidly soloed business functions where paper-based content is stockpiled rather than integrated into a digital work-flow. That's just one reason why transforming paper into digital-based images - which can be securely stored and easily accessed - is by far one of the greatest opportunities to take advantage of in this digital evolution.