SIMPLIFY PRINTER REPAIR
Many companies spend hundreds if not thousands of dollars in office equipment repair, with Managed Print Service (MPS) programs help businesses simplify their printer repair procedures.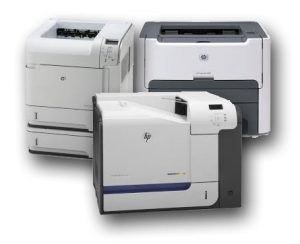 MPS programs not only help monitor printer performance, but also provide alerts when maintenance is necessary. This eliminates printer downtime and improves performance and efficiency. MPS programs also assists organizations streamline their types and models of printers, so they have a single contact for service requests.
START A MPS PROGRAM FOR YOUR BUSINESS
MPS providers can asist you in identifing what type of equipment you need to improve and streamline the equipment you already own, to better suit your needs.
MPS programs incorporates monitoring software to aid in the identification of issues and repair. Most printer manufacturers, like HP, XEROX, Ricoh, Kyocera and Canon for example, have software available, which your MPS provider can install. Your MPS provider will get notifications when regular maintenance service calls and supply levels should be looked at as well as when breakdowns occur and repairs are needed. These alerts can be addressed as soon as they come in, and if necessary, a service technician will be deployed to your location to fix the issue or repair damage.
SIMPLIFY PRINTER REPAIR
Managed print services can be used to simplify printer repair through a series of steps. These include the following:
Choosing one provider for your printers, rather than individual vendors will help reduce the length and number of service calls for your company.

Schedule routine maintenance visits based on the manufacturer's recommendation and usage. Moving parts will be checked for wear and cleaned to reduce the occurrence of paper jams, and electronic components will be tested to ensure they are functioning correctly. MPS programs help identify problems before they magnify, thus reduce costly down-time for your company.

Use error codes to identify potential problems when contacting your Managed Print Services provider.

Implement a process for checking for simple solutions before contacting your MPS provider for repair services. For example, has the unit come unplugged, is there a paper jam, etc.

Improve, consolidate and simplify your printing processes through the use of Managed Print Service alerts and notifications. Within an MPS program you can count on regularly scheduled maintenance calls and fast attention to unexpected problems through the use of automatic alerts.
Managed Print Service providers can simplify printer repair to keep your equipment functioning at its prime capacity. Highly trained service technicians, on printers from Kyocera, XEROX and HP for example, will ensure your printer fleet stays up and running smoothly.
---