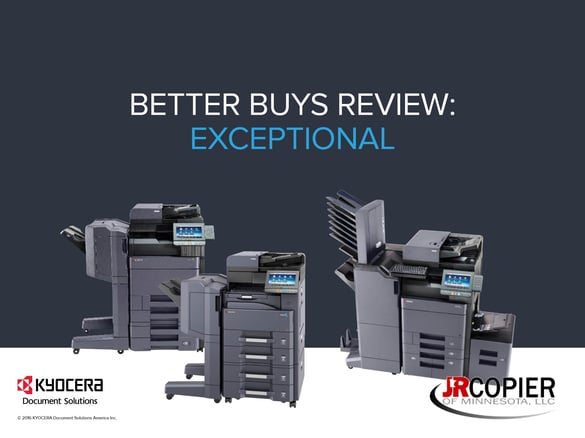 Better Buys honors two Kyocera devices with reviews as exceptional, intuitive, impressive. The Kyocera CS 6052ci is designed to meet the demands of busy medium-to-large sized workgroups, while the Kyocera CS 3011i series impressed reviewers with its 3.6-second first-page copy time. Take a look....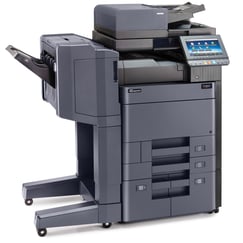 ✔

Good:

Flexible paper handling, 9" color touchscreen interface, optional EFI Fiery controller.
Bad:

Faxing and document feeders are only available as options.
Bottom Line:

Scalable series of MFPs for the medium-to-large workgroup that needs multifunctionality and color output.
Vendor: Kyocera Copystar Product: Kyocera CS 6052ci Intended Users: Medium, Large
Speed Black: 35ppm - 60ppm Speed Color: 35ppm-55ppm Price: $10,756-$20,325
Kyocera Features
Paper handling: Paper handling starts with two 500-sheet trays and a 150-sheet bypass. Kyocera offers optional paper trays that max out at 7,150 sheets, including two 500-sheet trays, two 1,500-sheet trays and a 3,000-sheet capacity tray. The standard 500-sheet trays accept up to legal-sized (8.5″ x 14″) paper, while the bypass and optional 500-sheet trays can accept up to 12″ x 18″ paper.
On all devices, there's a choice of two optional document feeders: a 140-sheet reversing automatic document feeder and a 270-sheet document feeder that scans both sides of a page in a single pass.
There are a few finishing options. First, there's a 500-sheet internal finisher that includes a 50-sheet dual-stapling position. Users can purchase an optional 2/3-hole punch kit. Second, there's a 1,000-sheet finisher with 50-sheet multiposition stapling and an optional punch kit. Finally, there's the 4,000-sheet finisher with 65-sheet multiposition stapling. Users can also purchase an optional booklet folder/tri-fold unit and multi-bin mailbox for this finisher. The mailbox includes seven trays with a 100-sheet capacity per tray.
Scanning: Users can send their scans in various ways, including scanning to folder, email, FTP, USB, TWAIN and WSD. These devices accept several file formats, such as TIFF, PDF, XPS and JPEG. Searchable PDF is optional. Scanning can be done in both black and color with a resolution of up to 600 dpi.
Faxing: The optional fax features include a 33.6 Kbps modem and 170 MB of memory. Network and duplex faxing are supported.
Security: The devices support many security features, such as local and network authentication, secure print and LDAP authentication. Optional features include a data security kit, hard-drive overwrite mode and hard-drive encryption.
EFI Fiery controller: Users can optionally purchase the EFI Fiery Printing System 15 controller if they have professional print jobs requiring higher image quality or complex color workflows. It comes with a 2.7 GHz processor, 2 GB of memory and a 500 GB hard drive. It supports PDF, PostScript and Microsoft Office formats. Other features include variable data printing, Fiery ColorWise color management tools and Fiery Command Workstation, to name a few.
---
Are you considering a B&W or a color copier?