Ricoh Aficio MP 4002/MP 5002
Sales Repair Service Supplies Lease • 763.509.0054
The impressive Ricoh Aficio MP 4002/MP 5002 delivers a wide range of advanced capabilities for reliable document management that improves workgroup productivity. • Print and copy up to 50 pages-per-minute for exceptional throughput to meet your busiest demands. • Add the final touches to your documents with three finishing options, including a 2,000-Sheet Booklet Finisher. • Use Auto Job Promotion to minimize downtime and maximize efficiency. This feature moves print jobs higher in the queue to skip "error" print jobs
Customize workflow to maximize productivity with the Ricoh MP 4002/5002
Greater workloads. Fewer resources. Less time. Your business challenges are constantly changing, so choose the RICOH® Aficio® MP 4002/MP 5002 digital imaging system to stay ahead of the competition. The services-led platform of the 40 ppm and 50 ppm black-and-white multifunctional devices offers a customizable control panel, access to cloud-based solutions and support for user mobility with secure mobile printing capabilities..
---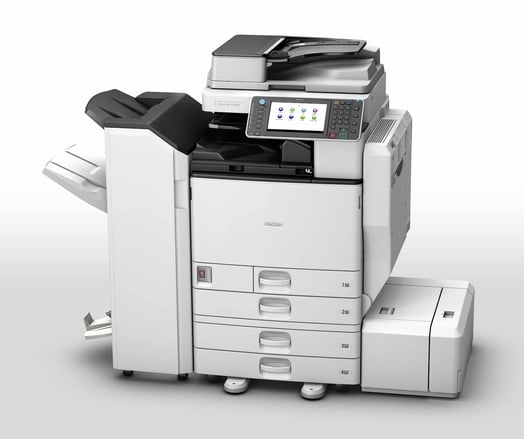 Configuration Color Multifunctional System
Powerful Performance The impressive Ricoh Aficio MP 4002/MP 5002 delivers a wide range of advanced capabilities for reliable document management that improves workgroup productivity.
Print and copy up to 50 pages-per-minute for exceptional throughput to meet your busiest demands.
Add the final touches to your documents with three finishing options, including a 2,000-Sheet Booklet Finisher.
Use Auto Job Promotion to minimize downtime and maximize efficiency. This feature moves print jobs higher in the queue to skip "error" print jobs.
---